Builder Designer Backlit Bathroom Mirror- BSM97C
$529.00
or 4 payments of $132.25 with
Info
Free AUS Shipping & Delivery
Showing off a backlit mirror, a spot magnifier, and a sleek finish, the Builder Designer Backlit Bathroom Mirror seamlessly fuses modern design with functionality. The white LED lighting forms a border all around the mirror, which ensures balanced illumination. The 3X spot magnifier is placed on the right side of the mirror, which is also illuminated by back lights. The Builder Designer Backlit Bathroom Mirror measures 90cm x 75cm x 4.5cm and may be mounted horizontally or vertically. This sophisticated piece is furnished with an infra-red (IR) sensor, which automatically turns on/off the back lights when movement is detected. 

With its modern features and sleek design, the Builder Designer Backlit Backroom Mirror turns an ordinary-looking bathroom into a modern one. 

Measures 90cm x 75cm x 4.5cm
Weighs 12.6
Rectangular bathroom mirror with an LED-backlit border
3X spot magnifier is also backlit
IR sensor automatically switches on/off the back-lights when movement is detected
Designed to be hard-wired by an electrician. Comes with an instruction manual and a 12V transformer
6000-6500 Kelvin light colour temperature
Horizontal mount only, due to the built in hangers already installed for horizontal orientation.

IP44 Protection rating (protected against objects >1mm like wires or screws, and water splashing against the enclosure from any direction shall have no harmful effect) 

Includes 1 year warranty

FREE SHIPPING AUSTRALIA-WIDE

Mirror Care and Maintenance

For best results clean mirrors with methylated spirits and water at a rate of 30% methylated spirits and 70% water. Do not use Windex or similar chemical cleaning products.

Avoid getting water on the sides or back of the mirror as damage to silver backing can occur.

In coastal areas it is recommended to wipe around the edge of the mirror once a month to avoid salt build up that can cause silver creep.

Do not place on a hard surface after opening as the mirror will chip.

Click the red Add to Cart button on this page to add this item to your cart



✓ The price is the total. No hidden costs, no surprises

✓ Free Shipping & Delivery in Australia

✓ Normally arrives within 5-10 business days, depending on location. Details

✓ 14 day Easy Mirror Returns. Details

✓ Best Price Guarantee. Details

✓ Call us on 1300 797 708 and our friendly staff will answer your call

Click the red Add to Cart button on this page to add this item to your cart



SHINE MIRRORS guarantees the most competitive prices online in Australia for stylish mirrors. Our prices include Free Shipping & Delivery in Australia.

If within 30 days of buying from SHINE MIRRORS, we'll price match and refund the price difference if you find the same item cheaper (including all taxes & shipping costs) on another Australian online store.

Please refer to the Price Guarantee page for full terms and conditions.

Should you have questions, please email us at info@shinemirrors.com.au or phone 1300 797 708 and our friendly staff will answer your call.

Click the red Add to Cart button on this page to add this item to your cart


---
Why SHINE MIRRORS?
✓ Australia's Largest Range of Quality, Unique, & Stylish Mirrors
✓ 100% Australian Owned & Operated
✓ Personalised Service
✓ The price is the total. No hidden costs, no surprises
✓ Free shipping & delivery in Australia including regional areas
Sydney | Canberra | Melbourne | Brisbane | Adelaide | Perth | Darwin | Hobart
---
Contact us today:
info@shinemirrors.com.au
1300 797 708
---
Customer Reviews
Write a Review
Ask a Question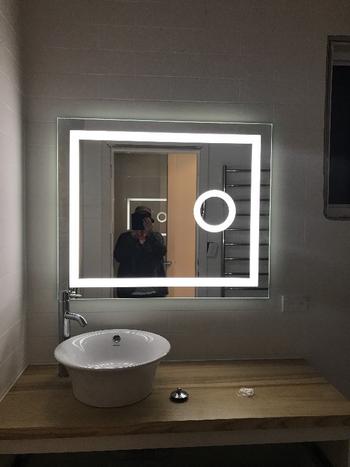 12 Aug 2017
Mirror purchase
My first mirror arrived damaged but without any fuss a replacement was sent out immediately and I'm pleased to say arrived undamaged. The service I received was second to none couldn't have been happier with the service I received or the mirror I purchased.
Sue S.
Brookvale, New South Wales