Ablaze Susan Bathroom Mirror
$479.00
or 4 payments of $119.75 with
Info
Free AUS Shipping & Delivery
A classic bathroom mirror with a 2.5cm bevel, polished edge frame that comes in a wide range of sizes to suit your liking.  The copper-free mirror is made from 6mm Viridian silver, which ensures a great support structure.  

Available in different sizes, custom sizes are accommodated:
60cm x 75cm
75cm x 7cm
90cm  x75cm 
120cm x75cm ; with a 14kg weight
150cm x 75cm ; with a 17kg weight
60cm x 90cm ; with a 8.5kg weight
Has a 0.6cm depth for a slim feature
Comes with an instruction manual for ease of hanging
Australian Made with 3-year warranty, ensures of high quality
FREE Shipping Australia Wide

Standard fixing of the mirror is glue-to-wall, unless otherwise specified.  Can have the option such as screw-to-wall, or batten fix (1.2cm thick; vertical or horizontal) to change free of charge.  See our FAQ for more details of the type of installation.  Edges of the mirrors are sealed to prevent moisture ingress prior to shipping.  Manufactured from Australian made glass and comply with Australian Standard AS2208.

Click the red Add to Cart button on this page to add this item to your cart



✓ The price is the total. No hidden costs, no surprises

✓ Free Shipping & Delivery in Australia

✓ Normally arrives within 5-10 business days, depending on location. Details

✓ 14 day Easy Mirror Returns. Details

✓ Best Price Guarantee. Details

✓ Call us on 1300 797 708 and our friendly staff will answer your call

Click the red Add to Cart button on this page to add this item to your cart



SHINE MIRRORS guarantees the most competitive prices online in Australia for stylish mirrors. Our prices include Free Shipping & Delivery in Australia.

If within 30 days of buying from SHINE MIRRORS, we'll price match and refund the price difference if you find the same item cheaper (including all taxes & shipping costs) on another Australian online store.

Please refer to the Price Guarantee page for full terms and conditions.

Should you have questions, please email us at info@shinemirrors.com.au or phone 1300 797 708 and our friendly staff will answer your call.

Click the red Add to Cart button on this page to add this item to your cart


---
Why SHINE MIRRORS?
✓ Australia's Largest Range of Quality, Unique, & Stylish Mirrors
✓ 100% Australian Owned & Operated
✓ Personalised Service
✓ The price is the total. No hidden costs, no surprises
✓ Free shipping & delivery in Australia including regional areas
Sydney | Canberra | Melbourne | Brisbane | Adelaide | Perth | Darwin | Hobart
---
Contact us today:
info@shinemirrors.com.au
1300 797 708
---
Customer Reviews
Write a Review
Ask a Question
08 Dec 2019
Ablaze Susan Bathroom Miirror
Great service and advice with very quick delivery. Extremely well packaged and beautiful mirror. This is the second time I have purchased a mirror from Shine Mirrors and on both occasions couldn't fault them. If I ever need another mirror I won't hesitate to use Shine again.
Stephen S.

South Morang, Victoria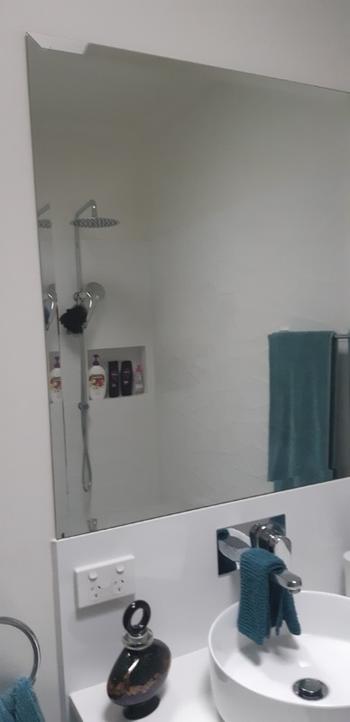 20 Sep 2019
Sport's Reno
Fantastic service and the very helpful Lovelie. We had to exchange ,(our fault) but had no problems with s pick up and drop off of the new one. Thanks
Kathy S.

West Footscray, Victoria
26 May 2020
lightning fast
Was blown away by how quickly our mirror arrived, especially with courier delays due to COVID. Excellent quality mirror, looks great in our bathroom, very happy!
Gina V.

Chelmer, Queensland
18 May 2020
Ablaze Susan Bathroom Mirror
This mirror arrived in perfect condition and communication from Shine regarding delivery times/delays was great!
Cathy H.

North Warrandyte, Victoria