Ablaze Teresa Art Deco Wall Mirror
Sold Out $299.00
Carrying simplicity, elegance, and style all at the same time, the Ablaze Teresa Art Deco Wall is a must-have for your home. This decorative wall mirror relies on a classic design, which features long rectangular mirror strips lining the edges and a small, square mirror topping off each corner.

The Ablaze Teresa Art Deco Wall is reinforced by a timber back-board, which ensures excellent support and stability. The centre mirror measures 48cm x 74cm while the whole mirror measures 65cm x 90cm – making it a fitting piece for your living room or bathroom.

Uncomplicated, yet overflowing with class, the Ablaze Teresa Art Deco Wall keeps your home looking fresh, bright, and pure. 

65cm x 90cm (whole mirror); with a 48cm x 74cm (centre mirror)
Rectangular wall mirror with a bevelled edge

Can be hung either portrait or landscape

Features rectangular mirror strips along its edges and a small, square mirror to top off each corner
Accommodates portrait or landscape orientation
Timber back-board for lasting support and stability
Weight: 10kgs
5mm as thickness of the mirror and the MDF is 9mm thickness 
Includes 1 year warrant
FREE SHIPPING AUSTRALIA-WIDE

Click the red Add to Cart button on this page to add this item to your cart



✓ The price is the total. No hidden costs, no surprises

✓ Free Shipping & Delivery in Australia

✓ Normally arrives within 5-10 business days, depending on location. Details

✓ 14 day Easy Mirror Returns. Details

✓ Best Price Guarantee. Details

✓ Call us on 1300 797 708 and our friendly staff will answer your call

Click the red Add to Cart button on this page to add this item to your cart



SHINE MIRRORS guarantees the most competitive prices online in Australia for stylish mirrors. Our prices include Free Shipping & Delivery in Australia.

If within 30 days of buying from SHINE MIRRORS, we'll price match and refund the price difference if you find the same item cheaper (including all taxes & shipping costs) on another Australian online store.

Please refer to the Price Guarantee page for full terms and conditions.

Should you have questions, please email us at info@shinemirrors.com.au or phone 1300 797 708 and our friendly staff will answer your call.

Click the red Add to Cart button on this page to add this item to your cart


---
Why SHINE MIRRORS?
✓ Australia's Largest Range of Quality, Unique, & Stylish Mirrors
✓ 100% Australian Owned & Operated
✓ Personalised Service
✓ The price is the total. No hidden costs, no surprises
✓ Free shipping & delivery in Australia including regional areas
Sydney | Canberra | Melbourne | Brisbane | Adelaide | Perth | Darwin | Hobart
---
Contact us today:
info@shinemirrors.com.au
1300 797 708
---
Customer Reviews
Write a Review
Ask a Question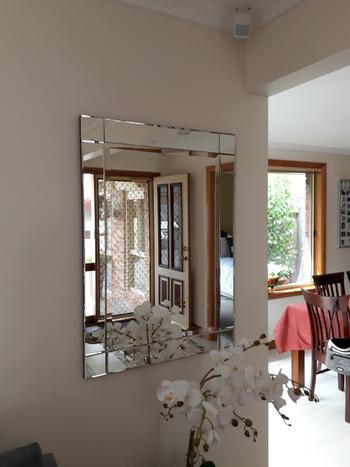 04 Feb 2021
Ablaze Teresa Mirror review
Excellent company to deal with. I recently purchased a wall mirror from Shine Mirror which appeared to have been damaged in transit. Shine Mirror's replaced this mirror with a new one with out any delay or fuss. Thank you Shine Mirror, PS: we love our mirror
Robert P.

South Morang, Victoria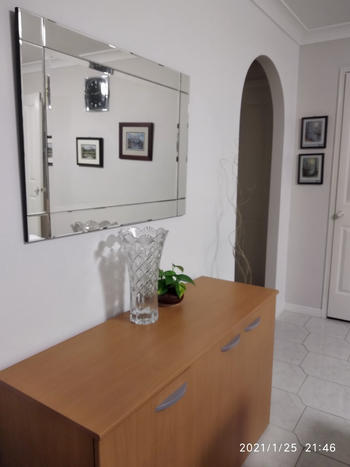 25 Jan 2021
Ablaze Teresa Art Deco Wall Mirror
Very impressive! Mirror delivered in two days. Beautiful mirror.
Ann C.

Brisbane, Queensland
15 Dec 2020
Ablaze Tereso Art Deco
Competitive price and quick delivery.
David R.

Ivanhoe East 3079, Victoria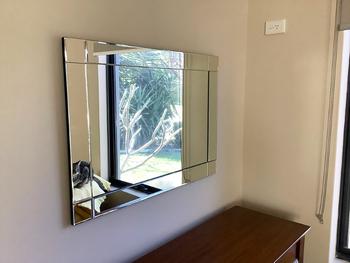 09 Aug 2020
Ablaze Teresa Art Deco Wall Mirror
Please find a pic of the mirror mounted on the wall. Very happy. Thank you
Iain T.
Hocking, Western Australia
13 Oct 2020
Hello, as yet I haven't been able to hang my mirror. I inspected it and it's just what I wanted. When I have it on my wall I will send you a photo. Your service was excellent and I would have no hesitation in recommending your company to my friends.
Janice M.

Seaford Meadows, South Australia
22 Sep 2020
Stunning Elegant Mirror
Choice was wonderful - I'm in WA and you just can't buy anything like this over here. Was concerned about shipping, but the packaging was incredible, nothing would have broken it. I allowed a month for the mirror to arrive, but it was delivered in one week!! Incredible. Then the mirror itself was so much better than anticipated. So elegant and special - thrilled with the purchase.
Jennifer W.

Fremantle, Western Australia
13 Oct 2019
Too good but true !
I read all the positive comments but I still didn't think I would be 100 percent happy with my order but I really was. Great price - quick delivery and delighted with product
Fiona H.

Mountain Creek, Queensland
31 Jan 2019
Mirror
Haven't had a chance to put it up yet but looks great!
Monique F.
Adelaide, South Australia