Belinda Silver Large Wall Mirror
$299.00
or 4 payments of $74.75 with
Info
Free AUS Shipping & Delivery
Gleaming with its silver inner frame and mirrored side panels, the Belinda Silver Large Wall Mirror is truly a sight to behold when mounted in your home. This wall mirror features silver-finished square corners, which are detailed with square embellishments for an added touch of class.

Given its mirrored side panels, the Belinda Silver Large Wall Mirror does an excellent job of brightening up your living space. This wall mirror is also home to a beveled centre mirror, giving it additional style points and reflective qualities.

Available in various sizes, the Belinda Silver Large Wall Mirror may also be mounted horizontally or vertically to match your preferences.

Can be hung vertically or horizontally
Features a silver inner frame and silver corners
Mirrored side panels for more reflective effects
Frame measures 2.5cm thick and 7.8cm wide (outer to inner border) – wider frames measure 10cm wide
Available in different sizes
55cm x 65cm (whole mirror) with a 40cm x 50cm centre mirror
65cm x 75cm (whole mirror) with a 50cm x 60cm centre mirror; 

weighs 5kgs

75cm x 106cm (whole mirror) with a 60cm x 91cm centre mirror; 13kg weight
75cm x 137cm (whole mirror) with a 60cm x 122cm centre mirror; weighs 17kgs
80cm x 172cm (whole mirror) with a 60cm x 152cm centre mirror (wider frame)
91cm x 116cm (whole mirror) with a 76cm x 101cm centre mirror
111cm x 141cm (whole mirror) with a 91cm x 121cm centre mirror (wider frame)
111cm x 202cm (whole mirror) with a 91cm x 182cm centre mirror (wider frame); 40kg weight
121cm x 172cm (whole mirror) with a 101cm x 152cm centre mirror (wider frame)
FREE SHIPPING AUSTRALIA-WIDE

*Have D-rings at the back and a cord tied to the D-rings for hanging as horizontal/landscape display. For large sized mirrors, it has J-Hook aluminium hanger for landscape display.

If needed for a vertical/portrait display, please indicate in the notes when ordering.

Click the red Add to Cart button on this page to add this item to your cart



✓ The price is the total. No hidden costs, no surprises

✓ Free Shipping & Delivery in Australia

✓ Normally arrives within 5-10 business days, depending on location. Details

✓ 14 day Easy Mirror Returns. Details

✓ Best Price Guarantee. Details

✓ Call us on 1300 797 708 and our friendly staff will answer your call

Click the red Add to Cart button on this page to add this item to your cart



SHINE MIRRORS guarantees the most competitive prices online in Australia for stylish mirrors. Our prices include Free Shipping & Delivery in Australia.

If within 30 days of buying from SHINE MIRRORS, we'll price match and refund the price difference if you find the same item cheaper (including all taxes & shipping costs) on another Australian online store.

Please refer to the Price Guarantee page for full terms and conditions.

Should you have questions, please email us at info@shinemirrors.com.au or phone 1300 797 708 and our friendly staff will answer your call.

Click the red Add to Cart button on this page to add this item to your cart


Customer Reviews
Write a Review
Ask a Question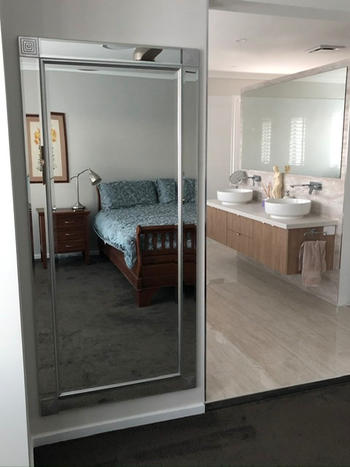 03 Jul 2020
2nd choice, but still a great mirror.
First mirror we ordered wasn't available in the size we wanted, so swapped to the Belinda. Still, the mirror is a great addition to our bedroom. The staff at Shine were Friendly and helpful to order the mirror once we were told our first choice wasn't available, even though listed on the website as available which is why I have given 4 not 5 stars. Delivery was timely, despite the current situation, and it came well wrapped. Will purchase again.
Gerald H.
Newport, Queensland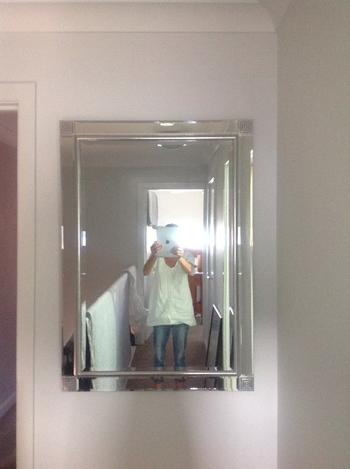 11 Nov 2017
Belinda silver mirror
Excellent service lovely mirror very happy the man was happy to assist with helping in bringing it up stairs Selina
Selina R.
Narrabeen, New South Wales
11 Jul 2019
Fabulous mirror
Delivery process was exemplary. Everything perfect My mirror is just so beautiful
Anne J.
Essendon North, Victoria