Builder Round Backlit Bathroom Mirror- BMS80C
$459.00
or 4 payments of $114.75 with
Info
Free AUS Shipping & Delivery
Show off your high-class taste in style with the Builder Round Backlit Bathroom Mirror. This round mirror features a backlit light, which forms a C-shape lining along its edges. It is also furnished with a 3X spot magnifier on the right part of the mirror, which is also illuminated by white LED lights.

The Builder Round Backlit Bathroom Mirror takes it up a notch by showcasing a touch sensor, which allows you to take complete control of the mirror's back-lights. The whole mirror measures 80cm x 80cm x 2.5cm and comes with its own 12V transformer.

The Builder Round Backlit Bathroom Mirror provides soft illumination for your bathroom while making it easier for you to groom yourself with its spot magnifier. This modern mirror is truly an essential piece for your contemporary-themed bathroom.

Measures 80cm x 80cm x 2.5cm
Weighs 10.5kgs
Round-shaped mirror with white LED back-lights
6000-6500 Kelvin light colour temperature
C-shaped back-light

10.5 Watts & Lumens are 790-810/LM

The light of the shaving mirror is more condensed
Features a 3X spot magnifier on the right side, which is also backlit
Comes with a touch sensor for activating lights
Designed to be hardwired by an electrician. Can be fitted with a 3-pin plug if needed
Has its own 12V transformer and complies with Australian standards
Wiring comes out from the centre 
Includes instruction manual for easy installation
1-year warranty

IP44 Protection rating (protected against objects >1mm like wires or screws, and water splashing against the enclosure from any direction shall have no harmful effect) 

FREE SHIPPING AUSTRALIA-WIDE

Mirror Care and Maintenance

For best results clean mirrors with methylated spirits and water at a rate of 30% methylated spirits and 70% water. Do not use Windex or similar chemical cleaning products.

Avoid getting water on the sides or back of the mirror as damage to silver backing can occur.

In coastal areas it is recommended to wipe around the edge of the mirror once a month to avoid salt build up that can cause silver creep.

Do not place on a hard surface after opening as the mirror will chip.

Click the red Add to Cart button on this page to add this item to your cart



✓ The price is the total. No hidden costs, no surprises

✓ Free Shipping & Delivery in Australia

✓ Normally arrives within 5-10 business days, depending on location. Details

✓ 14 day Easy Mirror Returns. Details

✓ Best Price Guarantee. Details

✓ Call us on 1300 797 708 and our friendly staff will answer your call

Click the red Add to Cart button on this page to add this item to your cart



SHINE MIRRORS guarantees the most competitive prices online in Australia for stylish mirrors. Our prices include Free Shipping & Delivery in Australia.

If within 30 days of buying from SHINE MIRRORS, we'll price match and refund the price difference if you find the same item cheaper (including all taxes & shipping costs) on another Australian online store.

Please refer to the Price Guarantee page for full terms and conditions.

Should you have questions, please email us at info@shinemirrors.com.au or phone 1300 797 708 and our friendly staff will answer your call.

Click the red Add to Cart button on this page to add this item to your cart


Customer Reviews
Write a Review
Ask a Question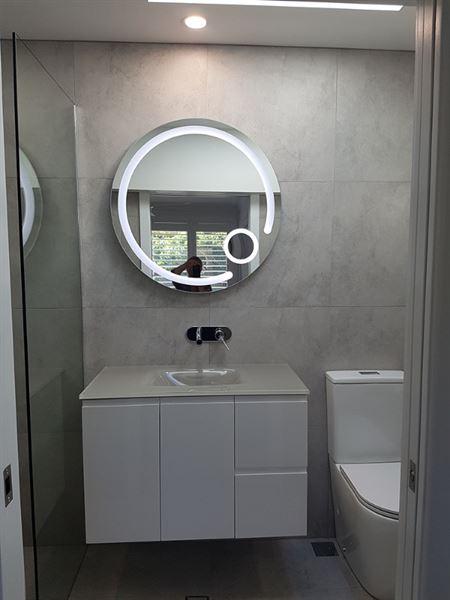 12 May 2020
Builder Round Backlit Bathroom Mirror
Hi Shine Mirrors, Here is the mirror from you which we put in my new ensuite. Very happy with the mirror and you can use the pic if you ever want. Thanks very much.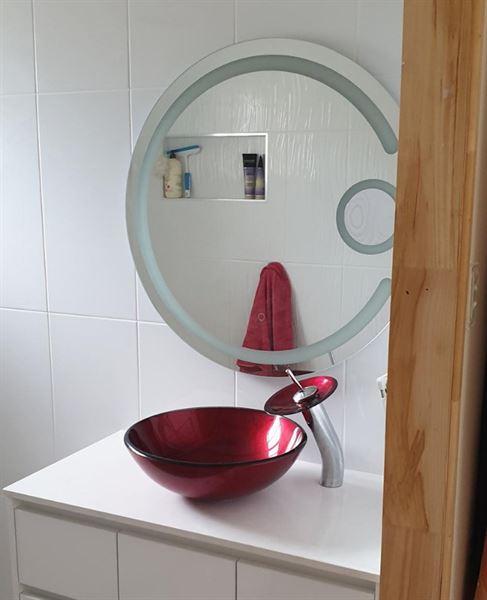 28 Feb 2019
Love it!
Love it! The mirror is gorgeous and arrived quickly!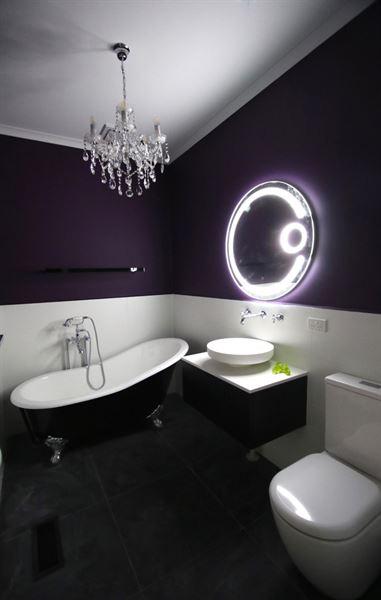 04 Jun 2018
Backlit bathroom mirror
Fast delivery and stunning.
25 Sep 2017
Builder Round Backlit Bathroom Mirror - BMS80C
Thank you for supplying some of the mirrors for a few of our projects. Please find attached photos of the builder backlit mirror installed on one of our penthouse project. The mirrors look great and will have future orders to our other projects.
08 Aug 2016
Builder round backlit mirror
Great, very quick and great that I got a discount on payment.