Anabella Gold Large Wall Mirror
$829.00
or 4 payments of $207.25 with
Info
Free AUS Shipping & Delivery
The Anabella Gold Large Wall Mirror fits right into any classic-themed home with its handsome wooden frame and ornate borders. Its gold-finished frame immediately stands out, owing to its intricate leaf-and-flower details and classic filigree running throughout its borders.

Just picture yourself entering your home with this majestic piece greeting you in the living room or hallway – its presence alone sets the tone for any occasion, constantly emanating a regal vibe as the night goes on.

The Anabella Gold Large Wall Mirror uses a beveled centre mirror to give the piece more depth and space. This wall mirror is available in various sizes, and can be mounted vertically or horizontally.

Can be hung vertically or horizontally
Gold-finished frame
Features ornate leaf-and-flower detail on the frame
Frame measures 8.5cm thick and 11.7cm wide (outer to inner border)
Available in different sizes
83cm x 114cm (whole mirror) with a 60cm x 90cm centre mirror
83cm x 172cm (whole mirror) with a 60cm x 148cm centre mirror
99cm x 124cm (whole mirror) with a 75cm x 100cm centre mirror
114cm x 144cm (whole mirror) with a 90cm x 120cm centre mirror
114cm x 205cm (whole mirror) with a 90cm x 180cm centre mirror
124cm x 172cm (whole mirror) with a 100cm x 148cm centre mirror
144cm x 205cm (whole mirror) with a 120cm x 180cm centre mirror
FREE SHIPPING AUSTRALIA-WIDE
See other variants of Anabella wall mirror

*Have D-rings at the back and a cord tied to the D-rings for hanging as horizontal/landscape display. For large sized mirrors, it has J-Hook aluminium hanger for landscape display.

If needed for a vertical/portrait display, please indicate in the notes when ordering.

Click the red Add to Cart button on this page to add this item to your cart



✓ The price is the total. No hidden costs, no surprises

✓ Free Shipping & Delivery in Australia

✓ Normally arrives within 5-10 business days, depending on location. Details

✓ 14 day Easy Mirror Returns. Details

✓ Best Price Guarantee. Details

✓ Call us on 1300 797 708 and our friendly staff will answer your call

Click the red Add to Cart button on this page to add this item to your cart



SHINE MIRRORS guarantees the most competitive prices online in Australia for stylish mirrors. Our prices include Free Shipping & Delivery in Australia.

If within 30 days of buying from SHINE MIRRORS, we'll price match and refund the price difference if you find the same item cheaper (including all taxes & shipping costs) on another Australian online store.

Please refer to the Price Guarantee page for full terms and conditions.

Should you have questions, please email us at info@shinemirrors.com.au or phone 1300 797 708 and our friendly staff will answer your call.

Click the red Add to Cart button on this page to add this item to your cart


---
Why SHINE MIRRORS?
✓ Australia's Largest Range of Quality, Unique, & Stylish Mirrors
✓ 100% Australian Owned & Operated
✓ Personalised Service
✓ The price is the total. No hidden costs, no surprises
✓ Free shipping & delivery in Australia including regional areas
Sydney | Canberra | Melbourne | Brisbane | Adelaide | Perth | Darwin | Hobart
---
Contact us today:
info@shinemirrors.com.au
1300 797 708
---
Customer Reviews
Write a Review
Ask a Question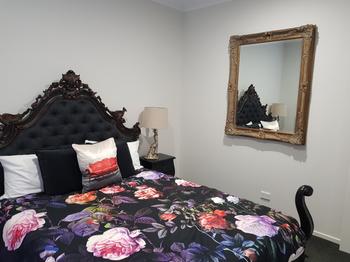 06 Jun 2018
Anabella Gold Large Wall Mirror
Excellent thanks! The smaller one was out of stock so I got the larger one for only $30.00 extra as opposed to paying $60.00. The quality of the mirror is beautiful.
07 Sep 2020
AAAAAAAAAAAAAA
Communication was FIRST CLASS, Product was better than expected, delivery transport people were fantastic. Will definitely buy here again
Paul B.
Mullion Creek, New South Wales