Helga Ivory White Large Wall Mirror
$769.00
or 4 payments of $192.25 with
Info
Free AUS Shipping & Delivery
Pure, pristine, and immaculate, the Helga Ivory White Large Wall Mirror breathes new life to your ordinary-looking wall space. This wall mirror flaunts a majestic ivory-finished frame, which is home to an exquisite arrangement of filigree and floral embellishments.

The Helga Ivory White Large Wall Mirror is best displayed on contrasting coloured walls or as a complement to your light-coloured room. This wall mirror is offered in different sizes and has the option of being mounted vertically or horizontally. For added depth and personality, the Helga Ivory White Large Wall Mirror makes use of a beveled centre mirror.

Can be mounted vertically or horizontally
Features an ivory-finished wooden frame that has ornate filigree details
Beveled centre mirror
Frame measures 10cm thick and 18cm wide (outer to inner border)
Available in different sizes
56cm x 61cm (whole mirror) with a 20cm x 25cm centre mirror
96cm x 125cm (whole mirror) with a 61cm x 122cm centre mirror
96cm x 188cm (whole mirror) with a 61cm x 152cm centre mirror
112cm x 137cm (whole mirror) with a 76cm x 102cm centre mirror
125cm x 157cm (whole mirror) with a 91cm x 122cm centre mirror
125cm x 217cm (whole mirror) with a 91cm x 183cm centre mirror; approximately 48kg weight
137cm x 188cm (whole mirror) with a 102cm x 152cm centre mirror; 45kg weight
157cm x 217cm (whole mirror) with a 122cm x 183cm centre mirror; 55kg weight
FREE SHIPPING AUSTRALIA-WIDE
See other variants of Helga Wall Mirror

*Have D-rings at the back and a cord tied to the D-rings for hanging as horizontal/landscape (except for 125cm x 217cm,137cm x 188cm, and 157cm x 217cm mirrors, they have J-Hook aluminium hanger for landscape display).  

If needed for a vertical/portrait display, please indicate in the notes when ordering.

Click the red Add to Cart button on this page to add this item to your cart



✓ The price is the total. No hidden costs, no surprises

✓ Free Shipping & Delivery in Australia

✓ Normally arrives within 5-10 business days, depending on location. Details

✓ 14 day Easy Mirror Returns. Details

✓ Best Price Guarantee. Details

✓ Call us on 1300 797 708 and our friendly staff will answer your call

Click the red Add to Cart button on this page to add this item to your cart



SHINE MIRRORS guarantees the most competitive prices online in Australia for stylish mirrors. Our prices include Free Shipping & Delivery in Australia.

If within 30 days of buying from SHINE MIRRORS, we'll price match and refund the price difference if you find the same item cheaper (including all taxes & shipping costs) on another Australian online store.

Please refer to the Price Guarantee page for full terms and conditions.

Should you have questions, please email us at info@shinemirrors.com.au or phone 1300 797 708 and our friendly staff will answer your call.

Click the red Add to Cart button on this page to add this item to your cart


---
Why SHINE MIRRORS?
✓ Australia's Largest Range of Quality, Unique, & Stylish Mirrors
✓ 100% Australian Owned & Operated
✓ Personalised Service
✓ The price is the total. No hidden costs, no surprises
✓ Free shipping & delivery in Australia including regional areas
Sydney | Canberra | Melbourne | Brisbane | Adelaide | Perth | Darwin | Hobart
---
Contact us today:
info@shinemirrors.com.au
1300 797 708
---
Customer Reviews
Write a Review
Ask a Question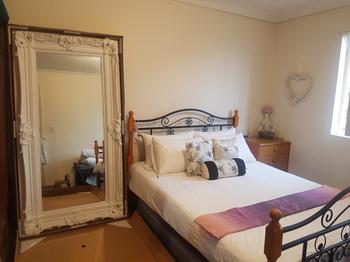 14 Oct 2018
Helga Leaner Mirror
My mirror is beyond amazing, bigger than i expected and is so beautifully designed.
Judi S.
Bankstown, New South Wales
17 Apr 2020
helga ivory white mirror
fantastic, could not have been better
Carol J.
Gaven, Queensland
20 Jun 2019
Helga Ivory large wall mirror
Second time I've purchased from you. LOVE the mirror but need a few more muscles to mount it! (will send photo when done). Service has been BRILLIANT both times...I'm in a rural area where I can't even get a letter delivered any more but these got delivered to my front door both times in perfect condition! THANK YOU!....will most certainly purchase from you again AND spread the word!
Sarah D.
Hindmarsh Valley, South Australia
09 Sep 2018
Mirror
Came really quick and in great condition.. I love it.